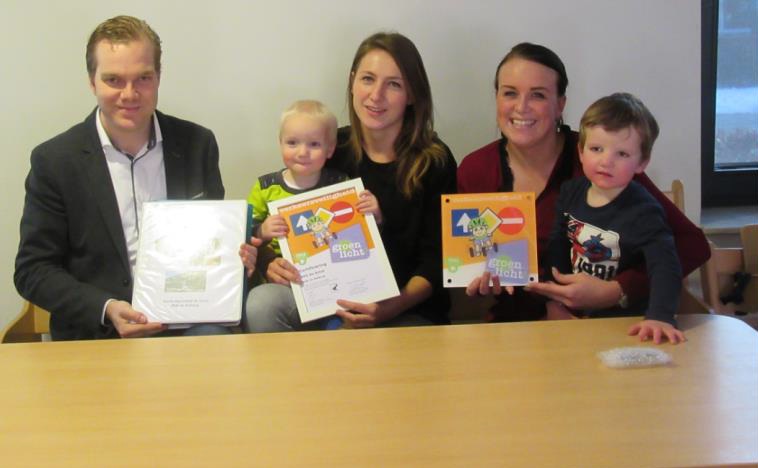 Met trots delen wij mee dat Kinderdagverblijf De Schat uit Wijk en Aalburg het verkeerslabel Groen Licht heeft behaald. Op 18 januari 2017 heeft wethouder Pim Bouman van de gemeente Aalburg het verkeerslabel uitgereikt. Het kinderdagverblijf ontvangt het label 'Groen Licht' omdat zij op meerdere manieren hebben laten zien dat ze de verkeersveiligheid en verkeerseducatie van jonge kinderen bevorderen en daar ook de ouders bij betrekken.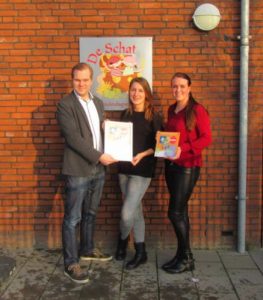 Een label wordt alleen uitgereikt aan kinderdagverblijven die kunnen aantonen dat zij structureel en op hoog niveau voldoen aan veel aspecten van verkeerseducatie en -veiligheid. Kinderdagverblijf De Schat heeft dit door middel van een verzorgd en uitgebreid portfolio met verschillende verkeersthema's bewezen. Tijdens een verkeersthema leren de kinderen al veel over wat veilig is en wat niet, over rood en groen, over oversteken en goed uitkijken. Bovendien worden ouders bewustgemaakt van hun rol in de verkeersopvoeding van de kinderen. Zij krijgen informatie en tips en worden op de hoogte gehouden van wat hun kinderen al leren in het thema.
De gemeente Aalburg zet in op verkeersveiligheid voor alle burgers en vergeet daarbij de jongste inwoners niet! Zodra een ouder met zijn kind de deur uitgaat, nemen ze beiden immers al deel aan het verkeer. Of dat nu in de wandelwagen, op de fiets of in de auto is. Dat betekent echter nog niet dat iedere volwassene die met kinderen op pad gaat, deze situatie ook gebruikt om kinderen op te voeden tot veilige verkeersdeelnemers. Juist op jonge leeftijd zijn kinderen erg gevoelig voor het inslijpen van goede gewoontes en ook op heel jonge leeftijd nemen ze al veel waar, van wat er in hun omgeving gebeurt. Om veel ouders en opvoeders van jonge kinderen en natuurlijk de kinderen zelf te bereiken zijn peuterspeelzalen en kinderdagverblijven (de kindcentra) een belangrijke schakel.
Wij als gemeente zijn dan ook erg blij en verheugd dat Kinderdagverblijf De Schat zich zo goed heeft ingezet voor verkeersprojecten binnen onze gemeente en dit in de toekomst ook wil blijven doen. Wij willen in het bijzonder de Verkeerswerkgroep van Kinderdagverblijf De Schat bedanken voor hun goede inzet. Tot slot willen wij onderwijsadviseur Pauline van Vliet van Edux Onderwijsadvies bedanken voor de goede begeleiding bij het maken van het portfolio van Kinderdagverblijf De Schat.